About Ledet Family Dentistry
If you're in search of a new dental home in Thibodaux, Ledet Family Dentistry can provide the treatment you need in an environment you'll love. Our cozy, inviting office will make you and the whole family feel welcome. Most importantly, you can be confident that every visit will benefit your smile and your overall health. Dr. Aimee Ledet and the entire team are committed to building smiles that our patients can be proud of. We're always excited to get to know new patients, so if you have any questions about our office or services, feel free to reach out to us!
Contact Our Office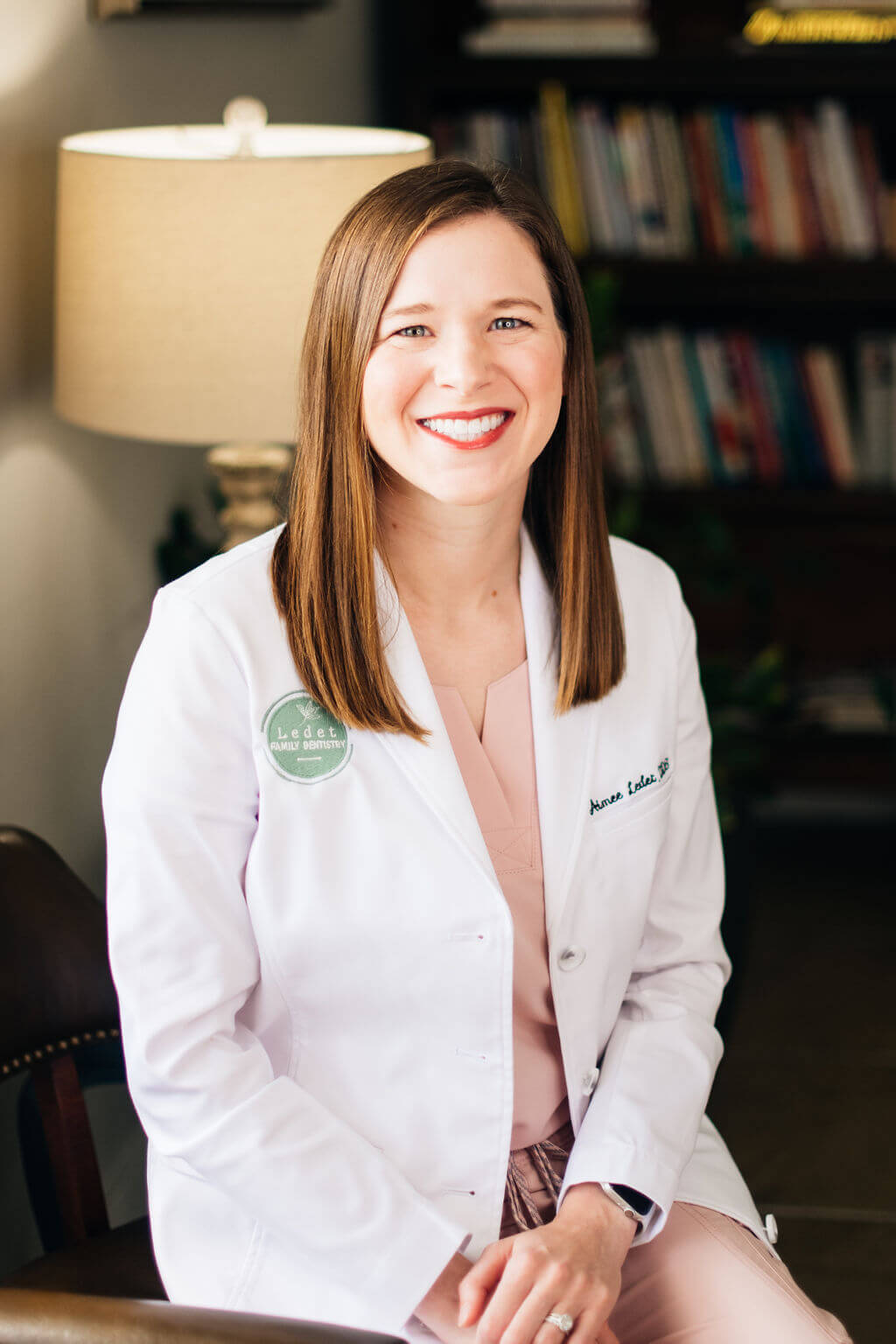 Meet Dr. Aimee Ledet
Dr. Aimee Dupree Ledet is a native of Houma, LA and graduate of Vandebilt Catholic High School and Louisiana State University. She completed her Doctorate of Dental Surgery at LSU School of Dentistry in New Orleans, and received honors from the C. Edmund Kells Honor Society and Omicrom Kappa Upsilon National Dental Honor Society. Dr. Aimee has been recognized for her outstanding care and skill through the Award in Excellence in Comprehensive Dentistry, the American College of Dentists Outstanding Student Leader Award, and The American Prosthodontic Society Student Award of Merit. She strives to increase her knowledge as a restorative dentist through her memberships in the American Dental Association, Louisiana Dental Association, Bayou District Dental Association, and the International Academy of Oral Medicine and Toxicology.
In her free time, she enjoys spending time with her family, going for walks, attending concerts and LSU football games. She and her husband Nick welcomed their daughter Millie in January 2020.

Modern Dental Technology
Our team makes every effort to stay on the cutting edge of dental care. Technologies and treatments are constantly evolving, and we believe it's worth investing in techniques that will give our patients a high standard of care. This allows us to provide efficient treatment to make your appointments straightforward and stress-free.
Digital X-Rays to capture clear digital images without the wait. They offer enhanced visibility compared to traditional X-Rays, and emit significantly less radiation.
Intraoral Cameras give us a closer look at your teeth and gums. They send a live feed to screens that allow you to see your teeth as your dentist discusses the situation with you.
Visible Sterilization so you can be assured that you're receiving care in a safe and sanitary environment.
Third-Party Spore Testing helps guarantee full sterilization of the dental equipment we use in our procedures.
Air Abrasion is a technique that uses compressed air to spray away areas of tooth decay. In situations where air abrasion can be used it can remove the need for stressful drilling.
DIAGNOdent Pen quickly illuminates areas of decay or periodontitis in the mouth using a laser fluorescence detector. It makes identifying and diagnosing problems quick and easy.
Nitrous Oxide Sedation to help relieve dental anxiety. This sedation method uses a comfortable mask to deliver a relaxing, odorless gas.
The Wand Anesthesia System delivers local anesthesia with precise computer guidance. This can ensure that patients experience more contained numbness in the area requiring treatment